Dear Reader,
The following is my true life experience as a Leukemia Acute Lymphoblastic Leukemia patient.
I was diagnosed with Leukemia All on 20th February 2008 at Tan Tock Seng Hospital. I went to the A&E as I had been having severe headache at the back of my head for about 3 weeks. And on the 20th Feb, I had blurred right eye vision. My wife forced me to go immediately to A&E to have it checked. I actually was reluctant to go and quarreled with her before leaving home to TTSH.
In TTSH, my heart was scanned and later was referred to the Eye Doctor, Dr James Ng from TTSH Ophthalmology Department. He was a very concerned doctor. After reviewing me, he did a lot of test on my eyes and found many Rock Spots on both eyes. I seriously had no idea what they were. Dr James actually went into the internet to show me the actual pictures which were actually internal bleeding. He then continued to with the diagnosing. He even activated his consultant whom activated her senior consultant who where there in an hour time. At this moment, my wife was with me and we did not suspect anything. Dr James even took my blood for the Full Blood Count test which was not his scope of work. I can see he was very concern about my situation but did not tell me anything.
I was admitted to the ward and on the 21st Feb 2008 at about 0830hrs, 3 doctors came to my bed. They told me that the blood test showed that my white cells were high in count and very active. Where else the red cells are dropping. On the spot, Leukemia came to my mind. I asked them "Am I having Leukemia?" One of them said, "Sorry to say, but yes." I broke down. This is because the only person whom I know had Leukemia was a classmate of mine in secondary school who passed away.
At that moment, a lot of matters came to my mind. How is my Wife 28,6 year old Son, 2 year old Daughter going to take my death? How are they going to survive as I have not done enough for them? I started to tear down. Treatment and recovery did not even come to my mind. Then the doctor started explaining. He said that medicine has advanced and nowadays Cancer/Leukemia can be controlled. I had a small relived but still not convinced about surviving. The doctors then recommended me being transferred to National University Hospital for further treatment. I agreed and was transferred to NUH Ward 58/Bed 10 within 45minutes by a private ambulance.
Upon reaching, my GOD, Dr Koh Liang Piu was already waiting for me. He introduced himself as Dr Koh and will be looking after me. The nurses, I remember Sister Aysha and Nurse Ikian attended to me. They were very encouraging and caring. Started me on drips. Then my family member came into the ward. They were all curious why I have been transferred to NUH and on drips.
Then came in the team of supporting gods. Dr Lee, Dr Angela Dr Ng, and MO Dr Tan. Dr Angela started to explain the situation to my family members (Wife, Father, Mother, Mother-in-law, 4 Cousins, 2 uncles) My Wife collapsed. I could not take my wife collapsing in front of me. I felt useless!!! Why this must happen to me, to my wife, to my family, What mistake have I done in life? Why is god punishing us in this way???? We have been living our lives smoothly, did not give any trouble to anyone and have 2 beautiful and smart children. What is going to happen to their future without a father? So many thoughts came to my mind upon seeing my wife collapsing!
After Dr Angela's explanation, we were left alone. My Manager, Mr Chee Beng and a colleague Mr Lim Chun Hwee was in the ward shortly after the briefing. I was very surprised at the speed they arrive upon hearing my condition. Dr Koh came in and asked everyone to go into the conference room for a briefing by him.
I heard later from my wife, Dr Koh was very frank and concerned. He was the consultant in NUH Hematology department. From then, my family had a better understanding. My wife explained everything Dr Koh mentioned in the conference room. And Dr Koh also explained to me personally and I gained my confident from his briefing. The DEATH thoughts disappeared. I saw a new light very very far away. I had a long way to go. I started to prepare mentally. When my family is around, thought feel down, I pretend as though I am in control of the situation. And my family got conned, hehe ! 
My chemotherapy started. My first admission was 28 days and the first bill was $50 000(est.) before subsidy. I went through 6 cycles of chemotherapy. The chemotherapy cycle was as such.
 1st week Chemo dosage,
 2nd week of low counts and
immune low,
 3rd week recovery to normal,
 4th week is rest week.
 5th week back to chemo and continues.
That was like a roller coaster ride. Ups and downs. There were so much of side effects. Vomiting, Diarehore, Fever, running nose, cough, ulcers, throat infection, lost of appetite and many more. Without the support of my wife, I could not have gone through all this issues.
After finishing 6 cycles of Chemo, Dr Koh fixed me on Maintenance Chemo where I do not have to go through the cycle. I maintain my having my oral tablets and now and then chemo induction at Cancer Center. And not forgetting the blood/Platelets transfusion which depends on the blood test results every appointment.
Then the big day was fixed. Sister Berlinda and Dr Koh informed that I will be having my Stem Cell Transplant on the 9th October 2009. Dr Koh was using 2 units Baby Cord blood from US Cord Blood Bank. Funds for this units were approved by Leukemia Foundation and Toh Kian Chui Foundation. This was arranged by my Medical Social Worker Ms Lee Ling fro NUH. I am very thankful to the foundations for the kind approval.
On the 9th October 2008, the Stem Cell Transplant went successfully. As usual, a lot of side effects again. This time it was worst then chemo period. With the pre transplant Chemo and radio theory done on me, I was super weak to take the side effects. But then again, giving up was not in the mind after going through so much. Family was around, Friends were around, I took one side effect at a time. To admit, lucky the side effects came one after another, which gave me time to handle it.
Taking in the Stem Cells from the baby Cord.
Sisters Berlinda and Aysha infusing the Stem cells
Tragedy on the 24th October 2008 at 0300hrs. My kidney and lungs started to failed. My heart rate dropped to 40%, started to vomit blood. I was losing conscious and cannot remember anything. Lucky my wife stayed behind that night and noticed the changes. She immediately called in the duty doctor who activated the ICU doctors. Upon verifying, I was pushed down to ICU in 15 minutes. Our God, Dr Koh was already at ICU who received the call from the duty doctor 15 minutes ago. My wife was relived to see him. I only open my eyes on the 27th October 2008 (Deepavail) night. But was still blur and cannot remember anything that had happened.
I was still on life support till 29th October 2008. Then I started to breathe on my own It seems that the infused baby cord blood was very active and the white cells attacked the kidney and the lungs. I returned back to Ward 58 HD and started my road to recovery.
By 2nd Feb 2009, I felt much better. My counts are slowly increasing and Dr Koh, now Senior Consultant, is happy with the results. Nevertheless, he is very careful with me, as I am still very vulnerable. Follow up appointments are once a week. Everything is returning back to norm slowly, I believe so.
I returned to office on the 9/2/2009. I was on light duty when I returned to office. I felt ill frequently initially. Mainly fever, flu and coughs. I had to report back to Dr Koh to get medication. Good thing was "they" were not prolonged. "They" came and go. I slowly took up my original job scope to keep me occupied and to build my stamina.
In October 2009, about a year after my Stem Cell Transplant, I was infected with Shingles. I had sharp pains on my teeth initially. Dr Koh engaged NUH dentist to check on my teething. All was normal but the pain was still there. Dr Koh told me to look out for "bubbles like symptoms.
True enough, that evening, my wife noticed the bubbles. I took the below picture and sent to Dr Koh.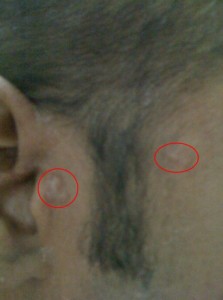 As expected, I was warded into isolation ward upon confirming it was Shingles as it is spreadable. I slowly got itch inside my right ear. The itch will be so severe that it feels as an army of ants crawling within your ear. My scratching will be non stop and no ants will come out. Due to my heavy scratching, I had a scared right face!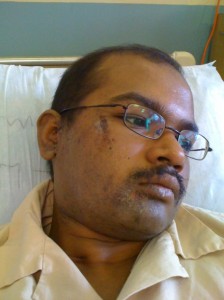 My scratched right face.
To top up the challenge, I got this nerve pains. The pain is tremendous as such that I will start kicking and banging the bed side. The burning pain will begin from the back of the right head and slowly travel to the right side of the face. The whole episode is about 5mins. I felt like diving down into a ice pool. The remedy for this is to have ICE pack and endure that "siong" (tough)  5 mins.I was very grateful the shingles did not have any other effects. It went away over time with medication.
After overcoming with Shingles, my next and current challenge came. It was my HEP B level. The level is at a high range. But thankfully, HEP B is not affecting my liver. Doctors are monitoring my situation closely. If my liver shows any effect, then I will have to start a life long medication to control Hep B.If it do not, then we have to monitor the situation. It is once again time to think positive and live my life. To help me with is my …
Motivation quote
"What has happened, has happened for the good. What is going to happen, is going to happen for the good! "
From this experience, I understood some pointers in life and would like share. When one falls sick, with the family support, the patient will recover much faster. Family is very important and we must always treasure them next to our hearts. Next, do not take life or health for granted. Get yourself insured enough to cover the expensive medical expenses. Hospitals are very helpful when it comes to funds assistance, but we must understand that they have their restrictions or capacity limit. Thus one has to do the necessary himself before others can assist him. Further contributing to my recovery is my workplace, Police Technology Department. My manager Mr Chee Beng and Head Manpower Mdm Jackie Foo assisted me in all ways such that my salary was not affected. As I was financially not so burdened, I had one thing less to worry. My family and myself are very grateful to PTD and Singapore Police Force.
Finally, life is short, fulfill all your wishes. Just make sure, your family has everything when you are not around!
Thank you.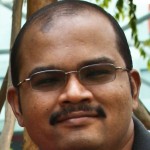 Dinesh Kumar s/o Thangavelu
©2012