Tan Yong Zhuo
Seven-year-old Yong Zhuo was diagnosed with defective B cells, a rare blood disorder. His childhood has been spent shuttling between the hospital and home since his condition was discovered barely 5 months after he was born. An unrelated cord blood donor was sought and found but the cost was very high. When the LLF was approached for help, it provided the funds for the procurement and shipping cost of the cord blood unit from overseas which came to $40,000. Yong Zhuo is now doing well and a normal life is within his reach and there lies hope and happiness ahead for him and his family.
---
BALASARASWATI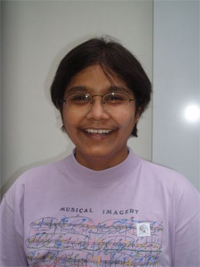 Balasaraswati's name means young lady with knowledge, and she is truly that. She knows the pain that lymphoma patients have to face, and she knows that it takes a lot just to smile after undergoing chemotherapy. She and her sister live together, and depend on each other for support. When Bala was diagnosed with Non-Hodgkin's lymphoma, her sister took over the burden of household expenditure and loan repaymens in order to take the load off Bala. Bala had to stop working because of her illness, and thus was unable to afford the expensive treatment costs. To ensure that she could meet the expense of the appropriate medicines, the Foundation provided $36,000 for her treatment costs. Bala's battle with lymphoma was a lonely one. Her sister was unable to obtain leave to go with her to the hospital for her treatments, a time when support and a comforting presence were most needed. She recalls telling herself to bear with the discomfort of treatment. In the ward, she would encourage others who were in the same position. The young lady who liked to jog and play squash showed care to others even when she was ill. Today, Bala has returned to her workplace, and continues to give back to society through voluntary activities.
---
Ganesan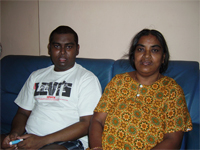 Ganesan is a 21 year-old young man coming from a needy family. He is single and the younger of 2 children in his family. Ganesan had just completed National Service and was working as a pest controller for a month before he was found diagnosed with Acute Lymphocytic Leukemia (ALL). His mother had to give up her job to take care of her son. The family needed full financial support. The Leukemia and Lymphoma Foundation assisted him with $64,840 for dual cord blood procurements and the cost of transplant, which was his only hope for cure. Ganesan had undergone his transplant in Feb 08. He has been on the recovery path after the transplant and is undergoing post-transplant follow-up with his doctor. His condition is stable and he is hopeful and keen to resume his normal life.