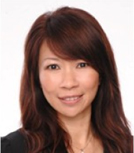 Executive Director, Residential Services
Qualification
:
Degree in Economics , University of London
Careers
:

2010 – Knight Frank Pte Ltd
2008 – Alpha Investment Partners Limited
2004 – Beverly Tower Development Sdn Bhd
2000 – Agency for Science Technology and Research
1997 – Knight Frank Pte Ltd
1990 – Ban Hin Leong
1988 – Everland Real Estate Agency
Career history and recent achievements
Wendy Tang has over 20 years of working experience in the real estate industry which covers agency related services and operations, project marketing and consultancy, portfolio and asset management for real estate funds in Asia.
Wendy was involved in sales and marketing and project consultancy involving Singapore projects for about 12 years before taking on new challenges to join the Genome Institute of Singapore, an A*STAR initiative for biomedical research in year 2000. In 2004, Wendy was engaged by Beverly Tower Development Sdn Bhd to oversee the sales and marketing operation of a high-end condominium in KL jointly developed by BTD and CapitaLand. During this period, she was involved in several feasibility studies of development opportunities in KL, China and Vietnam. In 2008, Wendy joined real estate fund manager, Alpha Investment Partners as Assistant Director, Portfolio and Asset Management covering Asia countries such as Singapore, Hong Kong, Thailand, China, India, South Korea, Vietnam and Japan. In 2010, Wendy joined Knight Frank and was promoted as Executive Director, Residential, overseeing Singapore Project Consultancy and Marketing, International Projects Marketing, Leasing and Prime Sales.
Wendy holds a degree in Economics from the University of London.